Testing and Certification
The multi blade dampers (MBD) for tunnel and metro are independently tested and certified in accordance with internationally accepted standards. Where applicable these tests can also be carried out on multi blade or single blade dampers for other applications.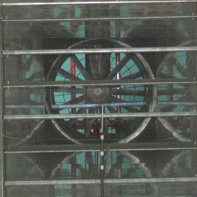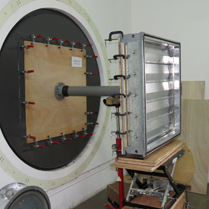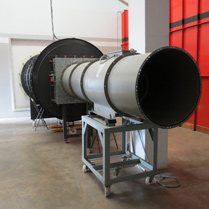 Thermal Performance
The fire resistance is tested both in horizontal and vertical position for 4 hours at temperatures exceeding 1150°C in accordance with BS 476 Part 20.
Continued operation at elevated temperatures (up to 400°C – 2 hours) is tested in accordance with governing guidelines such as the RABT. Additional tests in accordance with other standards such as EN 12101, EN 1363, EN 1366, UL-555, UL-555-S, NFPA 130 & 502, thermal shock tests can be carried out upon request.
Thermal tests are usually carried out by the independent Fire Safety Research Center (FSRC) in Thailand. In addition these tests are witnessed and certified by Lloyd's Register. Thermal performance test in other labs can be executed on clients' request.
Mechanical Compliance
Torque and travel time tests are carried out as part of the standard operating procedures. To prove compliance with structural integrity requirements the dampers have been fatigue tested by TISTR (Thailand Institute of Scientific and Technological Research) at +/- 6000 Pa for 7.9 million cycles. 100,000 cycle test have been performed on our multi blade damper to demonstrate the proper functioning of a damper complete with actuator without failure and without damage to any part of the damper that will decrease the damper's performance. Furthermore, material test certificates 3.1 and 3.2 in accordance with EN 10204 can be made available when specified.
Aerodynamic Performance
Testing has been conducted at AMCA laboratory in order to determine typical leakage and pressure drop performance of our multi blade damper. In addition, tests have been conducted in a UL accepted laboratory to demonstrate leakage rate as per UL555s Class I at both 250°F and 350°F.
Factory Acceptance Tests may include pressure drop tests of the open damper and leakage tests of the closed damper. These tests can be carried out in accordance with AMCA 500-89 and EN 1751.